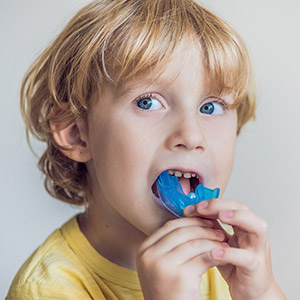 A wave of madness is about to sweep across Indianapolis and onto television screens across America—March Madness, that is. That's right: After its cancellation in 2020 due to COVID-19, the famed NCAA men's basketball tournament is back with all 68 games scheduled to be played in and around Indianapolis. As you can imagine, there will be numerous health precautions, and not just for the pandemic—there should also be mouthguards aplenty.
Why mouthguards? Although you might think football and hockey would be rougher on players' teeth, gums and jaws, basketball actually tops the list of sports with the most dental injuries. Such an injury occurring from a split-second contact with another player could take years to overcome.
Fortunately, mouthguards are a proven way to reduce sports-related mouth injuries among professional and amateur basketball athletes. Made of a pliable plastic, mouthguards cushion against blunt forces to the mouth generated during play (and not only formal games—practices and scrimmages too).
But while wearing a mouthguard is a no-brainer, choosing one can be a little intimidating. True, they all work on the same principle, but there are dozens of types, designs and price ranges.
We can, however, distill them down to two basic categories: "boil and bite" and custom mouthguards. You'll find the first kind online or in a local retail sporting goods store. It's named so because you first place it in hot water to soften it, and then place it in the mouth and bite down to create an individual fit.
As an inexpensive option, boil and bite mouthguards provide a level of protection. But they also tend to be bulky and uncomfortable, which can tempt players to wear them less. And the softer plastic (compared to custom guards) allows for a lot of jaw (and in turn, teeth) movement, which can cause teeth to loosen over time.
Custom mouthguards, on the other hand, are created by dentists based on impressions made of the wearer's mouth. As such, the fit tends to be more precise, requiring less material than the boil and bite variety, thus affording a greater degree of comfort. And there's less potentially damaging jaw movement with a custom mouthguard. As you might imagine, custom mouthguards are more expensive, but compared to the potential treatment cost for a sports-related dental injury, it's money well spent.
Investing in a custom mouthguard for your family basketball (or football, hockey or baseball) player is a sound way to protect their dental health. And that's not madness at all.
If you would like more information about athletic mouthguards, please contact us or schedule a consultation. To learn more, read the Dear Doctor magazine article "Athletic Mouthguards."